Royal Q Trading Bot Review: 100% Is Royal Q Robot Trading Legit Or Scam
Welcomes to Royal Q Trading Bot Review, In this review you will know if Royal Q Robot Trading is Good or not. Note: This review is based on historical data.
What is Royal Q Trading BOT?
Royal Q trading BOT is a computer program based on a set of cryptocurrency trading signals that helps determine whether to buy or sell a crypto pair at a given point in time.
It was developed in China and owned by a Chinese company. The royal q robot is designed to remove the psychological element of trading, which can be detrimental in investment or trading cryptocurrencies.
Robots like Royal Q are designed to automate crypto trading on your behalf.
You on the other hand need to pay attention to market statistics in trading and then pick which cryptocurrency to trade and at what time.
These bots help automate the analysis and interpretation of market stats.
They can gather market data, interpret it, calculate the potential market risk, and execute buying or selling crypto assets on your behalf.
Just think of it as hiring a cryptocurrency trading expert to do your crypto trading while you can sit back and watch the profit grow.
The Royal Q Crypto trading bots can often save you a lot of time and are more cost-effective than hiring human experts.
The truth is Cryptocurrencies are known for being extremely volatile, and the majority of the time prices fluctuate drastically even in the space of minutes.
So traders in many cases, are unable to react quickly enough to changes in the market price to achieve their trading goal.
This is where crypto robot-like Royal Q (Royal Quantitative) gets into the picture. They are nothing but automated tools that conduct trades and execute transactions on behalf of the users.
Royal Q Trading Bot Review
In this Royal Q Trading Bot review I will like you to watch direct from this YouTube video. This what people are saying.
How Does Royal Q Trading Bot Works?
In other to use the Royal Q trading bot users needs to integrate the app with a third-party exchange or trading platform.
Currently, Royal Q only integrates with the following exchange platforms:
So to get started, you'll have to Register an account with Royal Q and download the app on Google play store for Android users and Apple store for IOS device users.
But if you do, just log in to your Binance account to connect your Royal Q app with your Binance API keys to start trading with the APP.
However, to start using the Royal Q app, it cost an activation fee of 120usdt (TRC-20). $100 for a one-year subscription and the remaining $20 for gas fuel.
The gas fuel is a tiny fee the BOT charges whenever it picks trades (Buy/Sell) for users.
The actual trading capital is going to be in your Binance or Huobi account. So there's limited access to your funds.
In fact, you have total control over your money since they are all inside your Binance account. The Royal Q app only uses capital in your USDT wallet and the traded profit or loss drops in the pair wallet.
So basically, the only money that goes to Royal Q is the 120usdt activation fee.
How to Make Money with Royal Q?
Now let's talk about the ways to make money with Royal Q. Think about it, if Royal Q is just like every crypto trading robot out there…
Then why is it popular?
Because of their network marketing and revenue sharing program…
Basically, there are two ways in which users can make money from Royal Q. This includes:
Trading Cryptocurrency
Referral (MLM)
The first way to make money with the Royal Q app is through trading with the robot from your available capital inside your Binance or Huobi account.
However, for others that are down for the multi-level marketing (MLM), they can even make way bigger money than just trading with their capital.
So this is why the program is popular because the majority of the participants are trying to build their network through the MLM opportunity.
Let's explain how both of the income opportunities works (Trading and MLM)
#1. Trading Cryptocurrency
The robot trades cryptocurrency for you based on your capital amount and the ROI varies from 1 -50% based on your trading preferences using compound interest.
It also comes with features whereby you can sync or automatically copy expert traders on the platform.
So if you don't know what to trade then syncing with expert traders on the platform is the best guess for you.
#2. Referral (MLM)
The referral or networking part of the program is the most sort after of the Royal Q system. This is because by referring others you get to earn passive income.
The First Level is referred to as V1…
At this level, you'll get to earn a $30 instant commission on everyone you referred and also earn a piece of commission on their trades.
The Second Level is referred to as V2…
To attain this level, you need to personally refer at least 3 users and an overall team of 20 users. Directly by you or indirectly referred by the users you've registered.
At this level, you'll get a $40 direct referral bonus and a 30% reward bonus from the entirety of your team.
The Third Level is referred to as V3…
This level gives you access to a $50 direct referral bonus and a 40% team reward.
But to achieve this, you need 5 direct referrals by you and a totality of 100 team members to achieve this level.
The Fourth Level is Referred to as V4…
This level gives you a direct referral bonus of $60 whenever you directly referred someone and a total of 50% team reward from trading profit.
To attain this level, you need 8 direct referrals and a total team of 300 to achieve this.
Using the image below you can see how the MLM structures work and why the robot is very popular.
So people trying to refer you might just be doing so because of the referral bonus and the money they want to make without caring about your capital.
So be careful to know how the platform works before parting away from your hard-earned money while investing in the Royal Q BOT.
Royal Q Registration
Creating an account with the BOT is actually easy.
To get started, click on the Sign-Up link here… then fill out the form as seen in the image below!
Enter your email address, after that, click on send verification code to receive the code in your email address.
Once received, enter it in the verification code box and enter your password. Once you're done, click the Register button to proceed.
Don't download the App directly on play store so you don't download a lookalike app.
First, register an account, and once done, you see the link to download the app on the next page.
So from there, install the app and log in to activate the app on your mobile device.
Royal Q Activation for Trading
After you've login, you will need to activate the app to start trading. To activate the app, go to ===> 'Mine' at the extreme right-hand side below (footer of the app).
After that click on 'Asset', on the third row. There you'll see 'deposit', 'withdraw' and 'transfer'. Click on deposit to copy your Royal Q account USDT wallet address.
You can then send 120usdt (TRC-20) to the wallet address and click on activate in order to have your account activated.
So to start trading, you'll need to link the account to your Binance or Huobi account by copying your API keys.
Binding Royal Q with Your Binance Account
From your Binance account click on more…
Then scroll down to the "Others" section (Last section) and click on API Management. Once there you'll need to create a new API key by giving it a name. After that click on create.
Next, click on edit on the new API you just created and set restrictions for the API.
The only box you're going to enable is the "Enable Reading" and "Enable Spot & Margin Trading" leave the remaining box unticked.
With these settings, the robot has limited access to your trading account and funds in the account.
So all funds in your account are safe!
The only thing it can do is to trade with funds in your USDT wallet. So copy the API keys and the secret keys.
Then go back to the Royal Q account, at the home page, you'll see four icons
API binding
Revenue
Transaction
Invite Friend
Click on the API binding and choose the exchange you want to bind. For Binance users, click on Binance and copy and paste the keys respectively.
After that, click on send verification code. Next, go to your email, copy the code and paste it. Tick the risk notification box and click bind.
After that, your account is active and ready to trade for you.
So to start trading, at the home page of the app, when you look down, you'll see Quantitative.
Click on it and choose the pair you want the app to start trading on your behalf. To check your profits, at the home page, you'll see "Revenue", click on it to see your daily profits.
How to register on Royal Q
To register Royal Q App, download the app on Play store or Apple store and input the required information. Royal q is also a networking business and you need a code from a sponsor to register. You can use this code 2MBF5
But you must have BINANCE or HUOBI where you will be doing the trading.  Also download either of them on play store/ apple store for registration.
Royal Q login
Any time you want to login to your royal, you use the password chosen during registration
Royal Q Trading Bot Review: Pros and Con
This Royal Q trading robot review won't be completed if I fail to mention its pros and cons. So have a look at both the bad side and good side of trading with robots generally.
Pros
Below are the good things you can expect while trading cryptocurrency with robots.
Trades 24/7 nonstop
Funds are safe on the exchange website
You can easily trade without emotions
Simplified trading
Efficient trading
Con
Below are the bad sides of using robots to trade cryptocurrency on your behalf and what you should be aware of.
Robots are not perfects
There could be programming errors
Don't expect to make money overnight
Is Royal Q Trading Bot Real, Legit or Scam
User doesn't need to deposit their fund in their Royal q account as the bot only trades with user fund in their binance or Huobi account, and the bot doesn't have access to withdraw funds in their account but only have access to execute a trade hence user have the assurance that their fund is secured while using royal q to carry out their automated trading activities.
Royal q bot claim to select a specific crypto coin pair and make a trade automatically within which it is the value of the activation fee of $120 user paid and it's working as claimed
Considering this, the royal q bot is legit as it delivers the service it claims to provide but then, trading with bot-like royal q is not safe owing to the fact that it promises to always make a profit on every trade executed by the bot.
But then, the reverse is the case as there were many lost of a capital report by the majority of users prior to the wrong/unprofitable trades executed by the bot which result in massive loss of capital as in the case of a user below.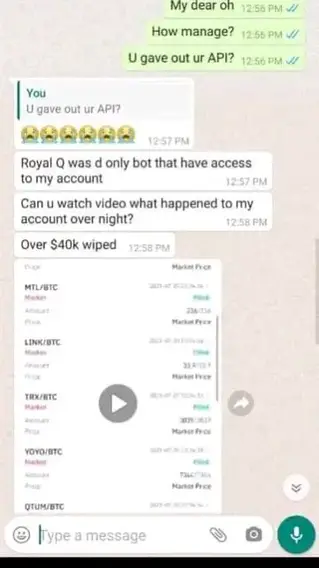 Meanwhile, most reviewers are only after the commission paid by the robot thus they don't care to inform their invitee of the risk involved in using the royal q bot for automated trading.
Hence we tagged the Royal q robot as a high risk tool prior to the false information provided on their website I.e royal q Bots make a profit on each trade and no loss on any trade executed by the bot.
Technically, looking at it, the only money you're giving away to royal q is the activation fee of 120usdt.
The rest of the investments are within your control because the app has no control of your asset in Binance. Except for the funds in the USDT wallet that it uses for trading.
The Crypto market can be a volatile market hence you might be risking your funds. So only invest the money you are comfortable with losing.
As for me, I did test the app. I started with $10 then increase the trading capital to around $180 on the 5th day and the return in 8days is $10.1 and counting.